As of 05/12/2017 (User:Bzero), Thunderhead Pass is
Neutral.
Autobots within the territory are viewed indifferently, Decepticons within the territory are viewed indifferently, and Unaffiliated Inhabitants are undisturbed.
How do I change this?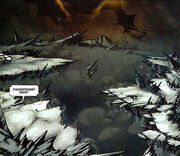 Thunderhead Pass is a neutral location on Cybertron. It's a dangerously mountainous part of Nova Cronum, and frequently suffers severe ionic acid rain storms, sometimes reducing visibility to mere meters.
Description
This unfortunate stretch of the Cybertronian landscape is a wretched labyrinth of sharp bedrock that crisscrosses the dire terrain, leading into a jagged void of crags and outcroppings carved through the Nova Cronum mountain range by the inexorable forces of time and nature. The unrelenting, piercing howl of the wind whipping through the pass is the only sound in the otherwise lifeless border between Iacon and Nova Cronum, a hollow limbo between the worlds of the living, where nothing would chose to dwell except for the emptiness.[1]
History
In 2017, Megatron activated a planetary engine located in Thunderhead Pass. Later that year a team of Autobots destroyed that planetary engine.
References
↑ Description written by Dreadtread.
Ad blocker interference detected!
Wikia is a free-to-use site that makes money from advertising. We have a modified experience for viewers using ad blockers

Wikia is not accessible if you've made further modifications. Remove the custom ad blocker rule(s) and the page will load as expected.