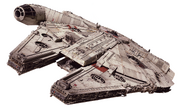 The Hatemaker is a Seacon-scale replica of the Corellian YT-1300 light freighter used by the smugglers Han Solo and Chewbacca in Star Wars. Its aged appearance belies numerous advanced modifications to boost the ship's speed, weapons and shield, including a hyperdrive engine among the fastest in the entire galaxy. It also includes sensor-proof smuggling compartments and a hologrid device for planning attacks. It once was piloted by Junkyard, but is now controlled by the Seacons.
History
In 2016, Junkyard was delivering medical supplies to Cybertron's Neutral Territories aboard his Millennium Falcon when he was attacked by Seacons at the Hydrax Spaceport. The Junkions were overwhelmed by the Seacons, and the Falcon was lost to them. Snaptrap later renamed the Millennium Falcon The Hatemaker, and replaced the dejarik table with a hologrid device.
Ship's Duties
When in flight, Snaptrap is in the captain's chair. Halfshell is running helm and navigation. Scylla is at the security station. Coelagon stands just behind Snaptrap, ready to advise him as needed. Terrormander is at the weapon's console. Sea Phantom is at the sensor station, sweeping for potential hostiles. Overbite, Seawing, Skalor, Snaptrap, and Tentakil are the boarding crew. Nautilator isn't allowed to touch anything.
References
This page includes Creative Commons information from Wookieepedia
Ad blocker interference detected!
Wikia is a free-to-use site that makes money from advertising. We have a modified experience for viewers using ad blockers

Wikia is not accessible if you've made further modifications. Remove the custom ad blocker rule(s) and the page will load as expected.