Founded by Isaac Sumdac, Sumdac Systems is the Earth's foremost producer of automatons. Headquartered in Detroit's Sumdac Tower, Sumdac Systems produces a fantastically wide range of automatons, with functions ranging from law enforcement to janitorial work to entertainment. Thanks to a series of mergers, Sumdac Systems owns a number of facilities across Detroit, including an abandoned car factory.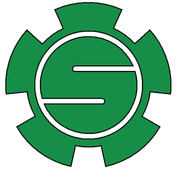 Known employees
History
MUX History:
In 2003 Carly Witwicky was hired by Idea Enterprises to create cutting edge technologies, and through them she partnered with Sumdac Systems from 2007 through 2009.
OOC
Sumdac Systems is a reference to the Transformers Animated cartoon, but unless someone wants to make a TP about it, it's just a continuity nod.
Ad blocker interference detected!
Wikia is a free-to-use site that makes money from advertising. We have a modified experience for viewers using ad blockers

Wikia is not accessible if you've made further modifications. Remove the custom ad blocker rule(s) and the page will load as expected.