Sky Creeper
Personal information
Real Name

Unknown

Birthplace

Unknown

D.O.B.

Unknown

Alias(s)

Unknown

Military information
Service branch
Primary MOS

Glider Pilot

Secondary MOS

Rotary/Fixed Wing Pilot

Rank

6 - Air Forces XO

Weapon(s)

Any Aircraft

Organizational information
Factions
Subteams
"Nice. How much loot can it carry?"
Sky Creeper fashioned his first glider out of bed sheets and broom handles and used it to successfully break out of reform school. He launched a criminal career based on robbing the patrons of fancy rooftop restaurants and escaping via glider into the night sky. Recruited into Cobra by one of the Dreadnoks during a prison term, Sky Creeper originated the Night Vultures, a covert recon unit, which he commands.
"Sky Creeper is not a glider enthusiast who happens to be a criminal. He is a criminal with an interest in gliders as long as they help promote his illicit activities. He is not at all enraptured by a glider's graceful lines, fluid controls or its birdlike feeling of oneness with the sky. His only concern is whether it will carry enough loot and still avoid radar detection."
History
Canonical/Pre-MUX/Theme History:
MUX History: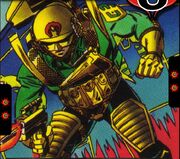 OOC Notes
Sky Creeper is Executive Officer of the Cobra Air Forces. He commands a personal squad of Night Vultures. His Commanding Officer is Wild Weasel.
While some list "Skycreepers" as Air Recon troopers, his filecard lists him as "Sky Creeper" and clearly establishes that it is a singular person, commanding Air Recon Troopers known as Night Vultures.
Logs
Players
Sky Creeper is available for application.
References
Ad blocker interference detected!
Wikia is a free-to-use site that makes money from advertising. We have a modified experience for viewers using ad blockers

Wikia is not accessible if you've made further modifications. Remove the custom ad blocker rule(s) and the page will load as expected.