Name: Rio Pacheco
Faction: USA
Species: Human
Function: ROAD MANAGER / MUSIC WRITER
Division: Starlight Music
Sub-Group: Roadie for the Holograms
Type: TP-Only
RIO PACHECO is Starlight Music's number one road manager and sound technician. Rio is one of the most sought-after technical engineers in the state of California. He is the best there is at what he does, and seems to just have a passion and natural talent for his job. The best part for him is that he loves what he does. He and Jerrica Benton, owner of Starlight Music, grew up together, and they'd been inseparable until the mysterious Jem walked into his life. Rio loves and respects Jerrica, but didn't know at first that Jem and Jerrica were the same person, and when he found out Jerrica had lied to him, it created a rift between them that hasn't quite healed. After breaking up with Jerrica, Rio drifted away from Jem and the Holograms for a while. Now back with the group he's supported all this time, Rio finds himself still harboring feelings for Jem.
| | | |
| --- | --- | --- |
| " | I hate deception and I despise liars. | " |
History
Canonical/Pre-MUX/Theme History: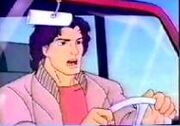 At some point soon after the Jem cartoon ended, Rio found out that Jerrica Benton was Jem, and the fact that she'd lied to him caused a long-running rift in their friendship, although they continued to professionally work together occasionally. He has kept Jem's secret since the 80s.
MUX History:
Rio arranged for the release of Jem and the Holograms when they were captured by Cobra. In the process, he unwittingly revealed he still has feelings for Jem.
In 2015 Rio began writing articles for several music publications, using his contacts and inspiration from his years in the music industry.
OOC Notes
Logs
Players
Rio was temped by Bzero for the Jem and the Holograms TP.
References
Is this all there is?!!
---
This character article is a stub and is missing information. You can help Transformers Universe MUX by expanding it.
Ad blocker interference detected!
Wikia is a free-to-use site that makes money from advertising. We have a modified experience for viewers using ad blockers

Wikia is not accessible if you've made further modifications. Remove the custom ad blocker rule(s) and the page will load as expected.