Quickswitch is an Autobot Six Changer.
This article is about the heroic Autobot six-changer - for his evil Shattered Glass counterpart, see Quickswitch (SG).
| | | |
| --- | --- | --- |
| " | A confused enemy is a defeated enemy. | " |
"Chaotic" is the best word to describe Quickswitch. "Unpredictable" works also. His rapid changing of forms is echoed by his moods changing just as wildly. Whether you find him happy or sad, angry or upset depends mostly on the moment you happen to run into him. If you run into Quickswitch in a bad mood, the best advice is simply to wait a moment.
Quickswitch possesses above-average strength, intelligence, and overall endurance. He is a Six Changer, able to transform between modes at three times the speed of the average Transformer. Quickswitch is a highly skilled warrior who knows how best to utilize his six-changing ability to maximize Decepticon casualties. Aside from his robot mode, he can also transform into an assault hovercraft cruiser, a jet-propelled laser pistol, an assault beast with stealth shielding, an armor-piercing drill tank, and a suborbital fighter jet. He is armed with twin photon blasters in all modes.
The inconsistency in Quickswitch's thought processes sometimes makes him as confused as his enemies.
History
The Transformers cartoon
Quickswitch was recently created as an experiment in doubling the triple-changer mode capacity, but this was done so without foreknowledge of the disastrous effect so many mode would have upon a single mind. Not only does he have different personalities, he's also extremely moody without rhyme or reason.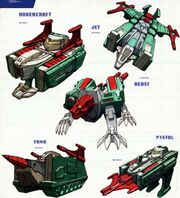 MUX Continuity
In 2016, Quickswitch helped the Autobots fight Dal Matia beneath the Silent Grill.
Logs
2016
July 13 - "Deathknell: One in a Billion" - The Autobots have their prize, the Decepticons know what's going on. And Silent Grill looms. But to rid the world of the Dead Energon Sea, Dal Matia must be either slain or apprehended. Hope upon hope that a Decepticon can save the planet from its poisoning... THE FINALE OF DEATHKNELL, Part 1.
October 30 - "Another Path" - While Spike attempts to help Quickswitch, Benin-Jeri and Dust Devil discuss going back to Cybertron.
Notes
Foreign names
French: Interclic (Canada)
External links
Is this all there is?!!
---
This character article is a stub and is missing information. You can help Transformers Universe MUX by expanding it.
Players
Quickswitch is played by Path Finder.
Ad blocker interference detected!
Wikia is a free-to-use site that makes money from advertising. We have a modified experience for viewers using ad blockers

Wikia is not accessible if you've made further modifications. Remove the custom ad blocker rule(s) and the page will load as expected.