TP Name: Old Soldiers Never Die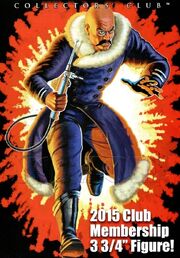 Primary Characters: Crazylegs, Doc, Doc II, Dr. Mindbender, General Hawk, Sergeant Shockwave
Primary Factions: GI Joe, Cobra
Primary Location: Earth
As an ongoing campaign of psychological warfare against the Joes, Dr. Mindbender perodically sends a synthoid clone of dead Joes after their living former teammates. Zombie Doc came very close to assassinating Hawk before being stopped.
History
Canonical/Pre-MUX/Theme History:
MUX History:
OOC Notes
Logs
2007
Players
Bzero temped Doc and Doc II
Ad blocker interference detected!
Wikia is a free-to-use site that makes money from advertising. We have a modified experience for viewers using ad blockers

Wikia is not accessible if you've made further modifications. Remove the custom ad blocker rule(s) and the page will load as expected.