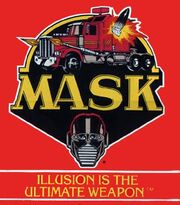 "Illusion is the ultimate weapon."
Joining forces with the GI Joe team, the Mobile Armored Strike Kommand (M.A.S.K.) team battles V.E.N.O.M. (Vicious Evil Network of Mayhem), the unit Cobra formed to construct its own converting vehicles.
History
Single father Matt Trakker is the multi-millionaire philanthropist whose money and technology created the initial M.A.S.K. team and kept it going. Miles Mayhem stole half the M.A.S.K. masks and used them to perform mercenary work, leading Trakker to assemble a team to counter him. In 2008 Trakker allied himself with G.I. Joe to help use his technology to defeat the forces of evil throughout the globe.
In 2013, Trakker assigned Hondo MacLean to the Pit to train and work with G.I. Joe in the spirit of inter-team cooperation.
External Links
Ad blocker interference detected!
Wikia is a free-to-use site that makes money from advertising. We have a modified experience for viewers using ad blockers

Wikia is not accessible if you've made further modifications. Remove the custom ad blocker rule(s) and the page will load as expected.