Machete is a Dreadnok
Machete
Personal information
Real Name

Unknown

Birthplace

Unknown

D.O.B.

Unknown

Alias(s)

Unknown

Military information
Service branch
Primary MOS

Motorcycle Driver

Secondary MOS

Demolitions

Rank

3 - Dreadnok

Weapon(s)

Shotgun

Organizational information
Factions
Subteams

Machete carries a shotgun and drives the Dreadnok Cycle with Buzzer as his gunner.
"Heh! Crazy bugger he is, aye, Torch?"
"You said it, Buzzer."
History
Canonical/Pre-MUX/Theme History:
MUX History: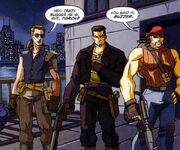 Machete joined the Dreadnoks in 2005.
OOC Notes
Logs
Players
Machete is available for application.
Gallery
Is this all there is?!!
---
This character article is a stub and is missing information. You can help Transformers Universe MUX by expanding it.
References
---
Ad blocker interference detected!
Wikia is a free-to-use site that makes money from advertising. We have a modified experience for viewers using ad blockers

Wikia is not accessible if you've made further modifications. Remove the custom ad blocker rule(s) and the page will load as expected.