Name: Kimber
Faction: USA
Species: Human
Function: SONGWRITER
Division: Civilian
Sub-Group: Holograms
Type: TP-Only
KIMBER is Jerrica Benton's younger sister. She is the primary songwriter of the Holograms, and is both romantic and rebellious. KIMBER used to be jealous of all the media attention that Jem got while fronting the Holograms, but since Jem retired and disappeared from public view, KIMBER has come into her own. Kimber is still a hopeless romantic, however, who seems to fall in love at the drop of a hat. She is an accomplished musician, and plays keyboards and synthesizers as well as providing lead and backing vocals for the Holograms.
History
MUX Canon History: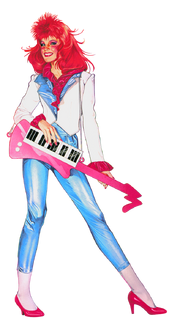 Kimberly "Kimber" Benton was a member of the Holograms during their heyday in the 80s, and when their lead singer Jem quit the band and mysteriously dropped from public site, Kimber took over the band.
MUX History:
KIMBER was one of the Holograms kidnapped by Cobra.

She was later released in exchange for advanced holographic technology. Even with Jem's temporary return, she still led the Holograms.
In 2015, Kimber helped launch the singing career of Taria Kacardi, who became the new lead singer of the Holograms. That same year she began a relationship with former Misfits band member Stormer.
In 2016 Kimber was kidnapped by Dealiticus for psychological experimentation. She was eventually released unharmed, but not until after forming a relationship with fellow captive Major Bludd.
In December of that year, Synergy sent Kimber an urgent call -- Starlight Music was on fire, and Synergy's very existence was threatened! Major Bludd responded immediately, using Synergy's holograms to bypass BAT checkpoints and arrive at the studio, which Incinerator 8299 had set on fire. Bludd rescued Synergy, extracting her memory drives and bypassing 8299 without being identified.
In 2017, Kimber encountered Bludd digging a grave in the back yard of the Starlight Mansion. Although shaken up by the discovery, she accepted Major Bludd's explanation of why he killed a woman, and ultimately just went back inside.
OOC Notes
Kimber was an important player in the Jem TP. She was captured by an alien creature in the Killing Jar TP. On the MUX, she was born in 1967.
Logs
2017
Players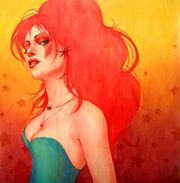 As a TP Character, Kimber is played by Bzero.
References
---
Is this all there is?!!
---
This character article is a stub and is missing information. You can help Transformers Universe MUX by expanding it.
Ad blocker interference detected!
Wikia is a free-to-use site that makes money from advertising. We have a modified experience for viewers using ad blockers

Wikia is not accessible if you've made further modifications. Remove the custom ad blocker rule(s) and the page will load as expected.