Indianapolis is the capital of the U.S. state of Indiana, and the county seat of Marion County, Indiana. The United States Census estimated the city's population, excluding the included towns, at 798,382 in 2008.
It is Indiana's largest city and is the 14th largest city in the U.S., the third largest city in the Midwest (behind Chicago and Detroit), the second most populous state capital (behind Phoenix, Arizona), and the largest state capital east of the Mississippi River. It is one of two state capitals that share their names with their states (The other is Oklahoma City).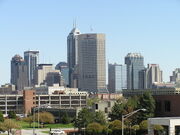 For much of its history, Indianapolis oriented itself around government and industry, particularly manufacturing. Today, Indianapolis has a much more diversified economy, contributing to the fields of education, health care, and finance. Tourism is also a vital part of the economy of Indianapolis, and the city plays host to numerous conventions and sporting events. Of these, perhaps the most well known is the annual Indianapolis 500 mile race. Other major sporting events include the Brickyard 400 (formerly the "Allstate 400 at the Brickyard") and the Men's and Women's NCAA Basketball Tournaments.
Greater Indianapolis has seen moderate growth among U.S. cities, especially in nearby Hamilton, Hendricks, and Johnson counties. The population of the metropolitan statistical area is estimated at 1,715,459, making it the 33rd-largest in the U.S. The combined statistical area population of Indianapolis is 2,035,327, the 23rd-largest in the U.S.
RL
BZero, IceSpark, and Marsh live in Indianapolis.
In 2016 the city was ravaged by motorcycle gangs and then taken over by Cobra.
In the Shattered Glass universe, Lt. Bludd lived temporarily in Indianapolis, and was attacked there during a book signing by Deadline.
Ad blocker interference detected!
Wikia is a free-to-use site that makes money from advertising. We have a modified experience for viewers using ad blockers

Wikia is not accessible if you've made further modifications. Remove the custom ad blocker rule(s) and the page will load as expected.