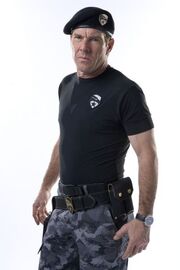 G.I. Joe Command
G.I. JOE SENIOR ADVISORS

10/O-10:

Army – General (GEN)

G.I. JOE COMMANDING OFFICER

10/O-9:

Army – Lieutenant General (LTG) 

9/O-9:

Navy - Vice Admiral (VADM)

Keel-Haul, Admiral Ledger (Retired Advisors)

9/O-8:

Army – Major General (MG)

General Austin (Retired Advisor)

9/O-7:

Army – Brigadier General (BG)

G.I. JOE EXECUTIVE OFFICER

9/CW5:

Army - Chief Warrant Officer (CW5)

G.I. JOE Naval Operations Commander

9/CW5:

Navy - Chief Warrant Officer (CWO5)

G.I. JOE FIELD COMMANDER

9/E-9:

Army - Command Sergeant Major (CSM)

G.I. JOE COMMAND
Sergeant Major

9/E-9:

Army - Sergeant Major (SGM) 

9/E-9:

Marines - Sergeant Major (SgtMaj) 

9/E-9:

Marines - Master Gunnery Sergeant (MGySgt) 
---
G.I. JOE: AIR FORCE
---
G.I. JOE: ARMY
| | | |
| --- | --- | --- |
| 8/O-6: | Colonel (COL) | Courage (Retired) |
| 8/O-5: | Lieutenant Colonel (LTC) | |
| 7/O-4: | Major (MAJ) | Major Altitude, Bullet-Proof, Major Barrage, GI Jane, Major Storm, Steeler |
| 6/O-3: | Captain (CPT) | Capt. Grid-Iron, Claymore, Doc Greer, Falcon (Special Forces Commander), Rapid-Fire, Lady Jaye, Lifeline (Chief Medical Officer), Nightingale, Psyche-Out, Robo-JOE, Sci-Fi, Spitfire, Stitches, Updraft, Windmill |
| 6/O-2: | First Lieutenant (1LT) | |
| 6/O-1: | 2nd Lieutenant (2LT) | Action Man, Budo, Digger, Grand-Slam, Grunt, Lt. Freefall, Trakker, Super Trooper, Lt. Thunderwing |
| 5/W-4: | Chief Warrant Officer 4 (CW4) | |
| 5/W-2: | Chief Warrant Officer 2 (CW2) | |
| 5/W-1: | Warrant Officer 1 (WO1) | |
| 4/E-8: | Master Sergeant (MSG) | Airwave, Big Brawler, Clutch, Dial-Tone, Dojo, Double Blast, Drop Zone, Sergeant Mace, Roadblock, Savage (retired), Sergeant Skydive, Snake-Eyes, Sergeant Blizzard |
| 3/E-7: | Sergeant First Class (SFC) | Airborne (AKA Air Raid), Cold Front, Cross-Country, Crossfire, Dodger, Hot Seat, Long Range, Recondo, Rigger (SFC "Airborne" Six), Rock'n Roll, Rumbler, Salvo, Shock Wave, Sergeant Sidetrack, Snow Job, Static Line, T'Jbang, Zap |
| 2/E-6: | Staff Sergeant (SSG) | Battleaxe, Cover Girl, Dart, Effects, Iceberg, Law, Low-Light, Pathfinder, Repeater, Side Track, Sightline, Snow Storm, Starduster, Tripwire, Tunnel Rat, Whiteout, Windchill |
| 1/E-5: | Sergeant (SGT) | Agent Faces, Airtight, Alpine, Ambush, Sgt. Armadillo, Sergeant Backblast, Barrel Roll, Barricade, Bazooka, Blowtorch, Bullhorn, Bushido, Chameleon, Chance, Chuckles, Clean-Sweep, Dusty, Fridge, Frostbite, Sgt. Garcia, Greenshirt 910, Hacker, Hardball, Hard Drive, Hardtop, Heavy Duty, Hi-Tech, Hit & Run, Ice Cream Soldier, Jinx, Kamakura, Kickstart, Kilroy, Sgt. Lifeline, Long Arm, Med Alert, Mockingbird, Muskrat, Mutt, Nunchuk, Sgt. Outback, Ozone, Pathogen, Quarrel, Recoil, Red Dog, Sgt. Redmack, Red Spot, Quarrel, Short Fuse, Sgt. Sideswipe, Skidmark, Sneak Peek, Sparks, Barbecue, Dial-Tone, Flash, Footloose, Ripcord, Sparks, Sergeant Spearhead, Steamroller, Stretcher, Sergeant Stiletto, Switch Gears, Taurus, Temera, Wide Scope |
| 0/E-4: | Advisor/Probationary Member/Specialist | Ashiko, Agent Mouse, Backstop, Banzai, Big Lob, Cannonball, Charbroil, Linda Chang, Checkpoint, Corporal Cloudburst, Crosshair, Downtown, Fast Draw Greenshirts, Banzai, Helix, Lightfoot, Specialist Morelli, Specialist Paquette, Red Zone, Specialist Rook, Scoop, Specialist Rollbar, Specialist Sandstorm, Specialist Shaz, Snapdragon, Temera (SG), Steel Brigade, T'Gin-Zu, Tiger Claw, Wildcard, Wildcat, William, Specialist Williston, Wreckage |
G.I. JOE: MARINES
| | | |
| --- | --- | --- |
| 8/O-6: | Colonel (Col) | |
| 6/O-1: | 2nd Lieutenant (2ndLt) | |
| 5/CWO2: | Chief Warrant Officer | |
| 3/E-7: | Gunnery Sergeant (GySgt) | |
| 2/E-6: | Staff sergeant (SSG) | |
| 1/E-5: | Sergeant (SGT) | |
| 0/E-4: | Corporal (Cpl) | |
G.I. JOE: NAVY/COAST GUARD
| | | |
| --- | --- | --- |
| 8/O-5: | Commander (CDR) – Naval Operations CO | |
| 6/O-3: | Lieutenant (LT) | |
| 6/O-2: | Lieutenant (junior grade) (LTJG) | Marissa (Joe Ally) |
| 5/W-4: | Chief Warrant Officer (CWO4) | |
| 4/E-8: | Senior Chief Petty Officer (SCPO) | |
| 3/E-7: | Chief Petty Officer (CPO) | |
| 2/E-6: | Petty Officer First Class (PO1) | Topside, Wet-Suit |
| 1/E-5: | Petty Officer First Class (PO2) | |
| 0/E-4: | Petty Officer Third Class (PO3) | Felino, Rampart |
| 0/E-2: | Seaman Apprentice (SA) | |
Allies
Australian S.A.S.
Autobot/Joe Relations
South America
MASK
Savage Eagles
Grill: Darren K. Filbert, a genius in mechanics, creator the Eagle's arsenal and vehicles.
Hep Cat: Kevin M. Kaye, a music lover with a knack for communications systems. (MIA)
Tank: Dwight M. Prudence, the vehicles´ master operator.
UK
SAS
Lt. Stone
Lt. Dolfin, Natalie Poole
OOC Note
Since the lowest rank a member of a Delta unit member can be is Sergeant (E-5), all full members of G.I. Joe have been promoted to that rank on the MUX. Corporals and provisionary members are officially considered to be specialists and support, although in the loose G.I. Joe command structure few are treated with anything less than respect for their contributions and skill.
KIA
G.I. Joe Casualties in Benzheen
References
See Also
Ad blocker interference detected!
Wikia is a free-to-use site that makes money from advertising. We have a modified experience for viewers using ad blockers

Wikia is not accessible if you've made further modifications. Remove the custom ad blocker rule(s) and the page will load as expected.