TP Name: G.I. Joe: The MacGuffin Device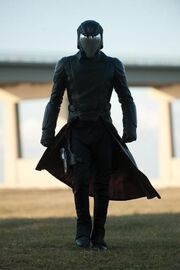 Primary Characters: Cobra Commander, Destro, G.I. Jane, G.I. Joe, Evac, Slipstream, Strato-Viper 2100, Temera, Tomax and Xamot, Typhoid, Wild Weasel
Primary Factions: GI Joe, Cobra
Primary Location: Former Joe HQ in Ohio
Year: 2009
History
Canonical/Pre-MUX/Theme History:
MUX History:
G.I. Jane and G.I. Joe have holed up in the Joes' old HQ in Ohio to work on a "secret strategic defense initiative." Evac has been commandeered to assist them, having seen too much during the Mindswap TP.
OOC Notes
Cobra gets wind of a secret strategic defense initiative being worked on in the Joes' HQ, and launch an assault to figure out what it is, and how they can capture or destroy it.
Logs
Posts
Players
Ad blocker interference detected!
Wikia is a free-to-use site that makes money from advertising. We have a modified experience for viewers using ad blockers

Wikia is not accessible if you've made further modifications. Remove the custom ad blocker rule(s) and the page will load as expected.