Female Autobots is a term used to refer to a team of female Transformers who function as an Autobot resistance group on Cybertron.
" Female Autobots? I thought they were extinct. " —The ever-observant Shockwave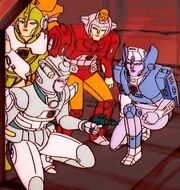 Members
The team as it appeared in 1985 consisted of six members. Over the years, however, other Autobots have joined their ranks, including Arcee.
Other members
History
Pre-MUX canon
The Female Autobots were believed destroyed by a missile strike during the Ark's launch 4 million years ago.
However, while the Ark crew slept on Earth, Elita's team formed a resistance group on Cybertron, operating in secret. Shockwave didn't discover their continued existence for millions of years, until 1985 (thanks Moonracer!). He eventually tracked them back to their underground headquarters. A subsequent attempt to capture Elita One resulted in a reunion with the Autobots stationed on Earth.
The Female Autobots relocated to a new secret headquarters provided by Alpha Trion and chose to remain on Cybertron to continue the fight there.
References
Shattered Glass
The Female Autobots in the Shattered Glass universe are a feared group of assassins, led by Elita-One.
Ad blocker interference detected!
Wikia is a free-to-use site that makes money from advertising. We have a modified experience for viewers using ad blockers

Wikia is not accessible if you've made further modifications. Remove the custom ad blocker rule(s) and the page will load as expected.