The Europa 2000 stretches from Paris to Istanbul, a course of some 2000 miles, with racers from all over the world participating for its million dollar prize.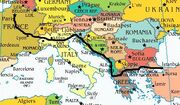 In reality, the Race was arranged by Megatron to bring American driver Auggie Cahnay to him in Istanbul.
Ad blocker interference detected!
Wikia is a free-to-use site that makes money from advertising. We have a modified experience for viewers using ad blockers

Wikia is not accessible if you've made further modifications. Remove the custom ad blocker rule(s) and the page will load as expected.