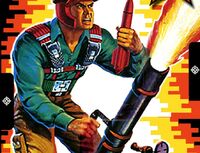 Name: Downtown
Faction: GI Joe
Species: Human
Function: Mortar artillery
Division: US Army
Sub-Group:
Type: FC
History
Canonical/Pre-MUX/Theme History:
While playing high school basketball in Cleveland, Ohio, Riley picked up the nickname "Downtown" for never missing a foul-shot. Once in the Army, he became skilled enough with firing mortars that he can judge range and trajectory just by eyesight. Downtown served with the G.I. Joe team on a number of missions before the team was shut down in 1994.
MUX History:
He was reinstated with the rest of the team, and was made a reserve member.
File Information
Personal information
File Name

Thomas P. Riley

Birthplace
Military information
Service branch

US Army

Grade / Rank
Specialties

Mortar artillery; Infantry; Special operations

Organizational information
Factions

In 2015 he was recalled to the Pit and assigned to Strike Team Bravo.
OOC Notes
Logs
Players
Downtown is available for application
Gallery
References
---
Ad blocker interference detected!
Wikia is a free-to-use site that makes money from advertising. We have a modified experience for viewers using ad blockers

Wikia is not accessible if you've made further modifications. Remove the custom ad blocker rule(s) and the page will load as expected.