This is a list of Female characters on the MUX, both human and Transformer.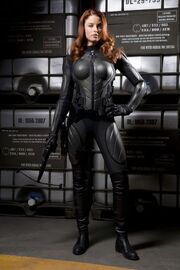 G.I. Joe
When American women were legally bared from combat, female G.I. Joe personnel officially had non-combat assignments. For example, on paper Lady Jaye was officially G.I. Joe's personnel clerk.
Transformers
For Transformers, being "female" is more of an issue of style of body construction and personality than of sexual reproduction. Some humans and Transformers insist there is no gender for robots, and while that may be technically true in physical terms, the fact is that most Transformers that deal extensively with two-sex species eventually develop a gender identity. Whether this is true for Transformers that deal with alien species that have more than one gender construction/sex is known only to galactic travellers.
Subcategories
This category has only the following subcategory.
Pages in category "Female Characters"
The following 191 pages are in this category, out of 191 total.
A

B

C

D

E

F

F cont.

G

H

I

J

K

L

M

N

P

P cont.

Q

R

S

T

V

W

Z
Ad blocker interference detected!
Wikia is a free-to-use site that makes money from advertising. We have a modified experience for viewers using ad blockers

Wikia is not accessible if you've made further modifications. Remove the custom ad blocker rule(s) and the page will load as expected.