Feature Characters
(FCs) are characters inspired by
canon
sources -- the cartoon, comics, movies, or toys, usually. Essential Feature Characters (EFCs) are those characters required to spend more time online and be active -- for example,
Optimus Prime
and
General Hawk
. Original Feature Characters (OFCs) are an exception to the canon rule -- they are
original characters
added to the MUX as appable Feature Characters, but were created by the admin and belong to the MUX as opposed to individual players like regular OCs are.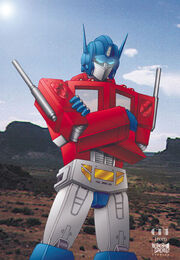 All FCs are open to application (as opposed to TP-Only characters, which can only be played by admin or temped under special circumstances).
Subcategories
This category has only the following subcategory.
Pages in category "FCs"
The following 200 pages are in this category, out of 538 total.
9

A

B

B cont.

C

D

D cont.

E

F

G

H
Ad blocker interference detected!
Wikia is a free-to-use site that makes money from advertising. We have a modified experience for viewers using ad blockers

Wikia is not accessible if you've made further modifications. Remove the custom ad blocker rule(s) and the page will load as expected.