| | | |
| --- | --- | --- |
| " | Hit it till it stands no taller than the dust. | " |
A rubble-strewn wasteland is Bonecrusher's idea of a beautiful landscape. Rare is the edifice that he feels is better off left standing. For him, demolition is not merely a job - it is a performance. He loves to show off for his comrades. And Megatron realizes that the fear and terror sowed by this Constructicon's wild ways are bonus by-products that can only help the Decepticon conquest of Earth's resources. Bonecrusher's attitude about the world around him can best be summed up by his personal credo: "Everything is dust - or it will be when I get through with it!"
In vehicular mode, Bonecrusher can exert a force of 800,000 pounds per square inch at a speed of 30 mph, enough to knock down all but the most heavily reinforced structures. His thick titanium-steel hide makes him virtually invulnerable to anything that might collapse upon him as a result of one of his charges. He can use a short-range concussion bomb launcher to aid his demolitions. In robot mode he carries a laser pistol. He serves as the left arm module which, when combined with his fellow Constructicons, forms the giant robot known as Devastator.
Bonecrusher's eagerness to wreak destruction often results in the loss of structures that had potential value for the Decepticons. Although he is rarely harmed by the collapse of a building on him, he is sometimes buried and finds it difficult to free himself at those times.
History
Canonical/Pre-MUX/Theme History:
MUX History:
In 2005, Bonecrusher and Mixmaster attacked a baseball stadium in Texas, only to be driven off by Windstorm and two Junkions.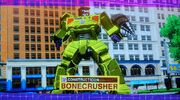 In 2017 he joined the rest of the Constructicons in Toraxxis to help build a new mega-refinery.
Logs/Posts
2012
March 31 - "Repairs" - At Starscream's behest, Bonecrusher makes a post about his repairs and why.
2017
Logs
Players
Bonecrusher had a player from 2005 through 2012, but is now once again available for application. In 2017 he was temped by Bzero.
References
---
Ad blocker interference detected!
Wikia is a free-to-use site that makes money from advertising. We have a modified experience for viewers using ad blockers

Wikia is not accessible if you've made further modifications. Remove the custom ad blocker rule(s) and the page will load as expected.