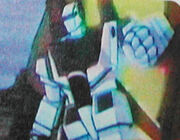 Autobot Aerospace Division, led by Jetfire with the assistance of Scattershot and Silverbolt.
9/Commodore/Aerospace Commander
Jetfire AIR GUARDIAN (Aerospace CO)

8/Captain
Metalhawk - SPACE COMMANDER (Space Sub-Division Commander)
Silverbolt AERIALBOT COMMANDER (Air Sub-Division Commander/Aerospace XO)

7/Group Captain
6/Wing commander
5/Squadron Leader
3/Sergeant
2/Corporal
1/Aircraftman
0/Independent Operative
Ad blocker interference detected!
Wikia is a free-to-use site that makes money from advertising. We have a modified experience for viewers using ad blockers

Wikia is not accessible if you've made further modifications. Remove the custom ad blocker rule(s) and the page will load as expected.