Cobra
The Mamba was first deployed by Cobra, piloted by highly-trained Gyro-Vipers.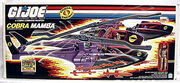 Autobots
Technobots arrive on Earth and join Optimus Prime's main forces.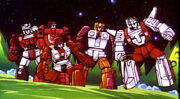 What If Universes
Witwicky What If? Universe
The Author and The Mechanic - Sparkplug's decision in 1984 not to help the Autobots causes a major rift between Spike and his father. In addition to sapping Spike's drive, it also causes him to drift off into daydreams, which results in a costly mistake for Sparkplug's business.
Ad blocker interference detected!
Wikia is a free-to-use site that makes money from advertising. We have a modified experience for viewers using ad blockers

Wikia is not accessible if you've made further modifications. Remove the custom ad blocker rule(s) and the page will load as expected.