Year 1848 (MDCCCXLVIII) was a leap year starting on Saturday of the Gregorian Calendar (or a leap year starting on Thursday of the 12-day slower Julian calendar).
1848 is historically famous for the US Gold Rush and the wave of revolutions that significantly altered the political and philosophical landscape and had major ramifications throughout the rest of the century.
Events of 1848
January – March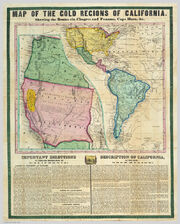 July – September
August 19 – California Gold Rush: The New York Herald breaks the news to the East Coast of the United States that there is a gold rush in California (although the rush started in January).
Ad blocker interference detected!
Wikia is a free-to-use site that makes money from advertising. We have a modified experience for viewers using ad blockers

Wikia is not accessible if you've made further modifications. Remove the custom ad blocker rule(s) and the page will load as expected.